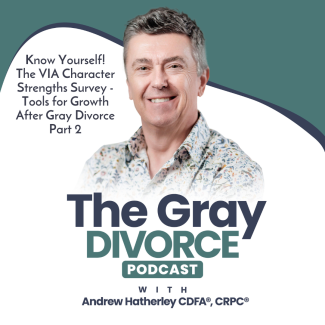 The Gray Divorce Podcast: Episode 22 Know Yourself! The VIA Character Strengths Survey - Tools for Growth After Gray Divorce Part 2
In episode 22 of the Gray Divorce Podcast we continue our discussion on the importance of better understanding ourselves before, during and after mid-late life divorce. 
In Part Two we discuss the VIA Classification of Character Strengths and Virtues, a tool that works alongside the Big 5 Personality Test, to help us better understand ourselves by focusing on our key strengths. Like our personalities, most of us have no real awareness of our character strengths and how these serve us in daily life. 
In 2004, Dr. Peterson and fellow psychologist Martin Seligman conceptualized the Values in Action or VIA, inventory of strengths which brings together the six most valued virtues cataloged into 24 universal character strengths. 
They suggest that every person possesses three to seven out of these 24 strengths as "signature strengths" representing the core of a person's identity.  
When we use these signature strengths we enjoy feelings of authenticity, excitement and invigoration. Further, it is suggested that people possess intrinsic motivation and a strong urge to use their top strengths. And that using those top signature strengths has a positive effect on our well-being, vitality and quality of life. 
The six categories of virtue Seligman and Peterson identified were 1) wisdom and knowledge, 2) courage, 3) humanity, 4) justice, 5) temperance, and 6) transcendence. 
Within each of these six categories are strengths related to that particular virtue: 
Wisdom and knowledge
Here we find cognitive strengths that entail the acquisition and use of knowledge. Strengths like creativity, curiosity, open-mindedness, love of learning, and perspective. 
Courage 
Courage is our emotional strengths that involve the exercise of the will to accomplish goals in the face of opposition, both internal and external. These include bravery, persistence, integrity, and vitality. 
Humanity 
Strengths of humanity are interpersonal strengths that involve tending to and embracing others. These include love, kindness, and social intelligence. 
Justice 
Strengths of justice include civic strengths that underlie healthy community life. These are citizenship, fairness, and leadership. 
Temperance 
Strengths of temperance protect us against excess. Here we have forgiveness and mercy, humility and modesty, prudence, and self-regulation. 
Transcendence 
Strengths of transcendence forge connections to the larger universe and provide meaning. These include appreciation of beauty and excellence, gratitude, hope, humor, and spirituality. 
Conclusion 
I encourage you all to spend some time looking over the classification of character strengths and virtues within the resources attached. As you go over this table of strengths you may find that certain strengths stand out as potentially among your signature strengths. 
I strongly encourage everybody to take the VIA survey to get a measure of your 24 strengths. You can do this by visiting www.viacharacter.org and just click to take the free survey. 
The VIA Institute on Character website has some excellent recommendations for new ways in which we can use each of our character strengths after we take the survey. I really recommend you check it out at viacharacter.org. 
Resources
Character Strengths and Virtues: A Handbook and Classification. Martin Seligman and Christopher Peterson 
Book: The Positivity Project - Character Strengths
Article: The Classification of Character Strengths and Virtues
Book: Choose Growth – A Workbook for Transcending Trauma, Fear and Self-Doubt. Scott Barry Kaufman, PhD and Jordyn Feingold, MD. 2022