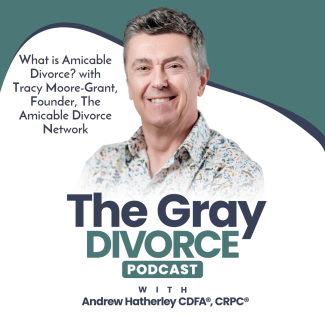 The Gray Divorce Podcast: Episode 20 What is Amicable Divorce? with Tracy Moore-Grant, Founder, The Amicable Divorce Network
In Episode 20 of The Gray Divorce Podcast, I welcome Tracy Ann Moore-Grant, a family law attorney practicing in northern Georgia and the founder of the Amicable Divorce Network.
We discuss Amicable Divorce as a non-adversarial approach to divorce, an alternative dispute resolution process along the lines of mediation and collaborative divorce but unique in its own way.
FYI, am a founding member of the Amicable Divorce Network in Nevada and a member in many states across the country.
What is the Amicable Divorce Network?
The Amicable Divorce Network is a team of licensed, experienced divorce professionals - including attorneys, mental health clinicians, financial experts, and other specialists.
We guide divorcing couples through a modern way to divorce called the Amicable Divorce Process, which is a civilized, transparent, and cost-effective alternative to adversarial divorce litigation.
Our members are vetted to ensure that they are leading, solution-oriented experts, committed to an amicable approach to divorce.
We provide divorcing couples with the expert advice and guidance that they need, without traditional, destructive, and costly litigation.
Our structured approach empowers reasonable people to reach an informed settlement while preserving their privacy, sanity, and hard-earned assets.
Network members charge reasonable rates for work that is focused on healthy resolutions for clients. Use of the Member Directory is free to the public.
The Divorce Amicably process is an efficient and civilized alternative to litigation, based on a structured, problem-solving approach.
1 - Select Attorneys
Each spouse selects an Amicable Divorce Network attorney and establishes an attorney-client relationship. You begin to receive personalized, confidential advice from seasoned lawyers who are committed to an amicable resolution of your divorce.
2 - Commit to the Process
You mutually commit to the Amicable Divorce Process, which provides a step-by-step roadmap for your divorce. The divorce is not filed with the court until all issues are resolved. There is no destructive and costly litigation.
3 - Establish Rules
Similar to the standard order issued by most judges, you voluntarily commit to follow certain rules that reduce stress and uncertainty, such as refraining from making any unilateral changes related to the children or unusual financial transactions.
4 - Identify Issues and Experts
The parties and attorneys identify and focus on issues that are most important to you and begin to discuss solutions. If needed, other Network professionals are utilized, such as mental health, financial and real estate experts.
5 - Disclose Finances
In a guided process, the parties exchange financial Affidavits and documents by which they disclose all assets and liabilities. If child support or alimony is at issue, sources, and explanations of income are included.
6 - Negotiate and Mediate
The divorce is resolved through fully informed, good-faith negotiation. Settlement efforts may be facilitated by a Network mediator, who is trained to help parties reach a livable compromise. If mediation is unsuccessful, a Network arbitrator (sometimes known as a "private judge") makes final and binding decisions. The case never goes to court.
7 - Draft and Sign Documents
The attorneys draft final legal documents tailored to conform with state law and local court rules. With all terms settled, the attorneys file the divorce and a judge signs the divorce decree.
8 - Start the Rest of Your Life
Your divorce is complete, having never stepped foot in a courtroom. Start the rest of your life, knowing that you chose a healthier way to divorce!
Resources
Amicable Divorce Network: www.amicabledivorcenetwork.com