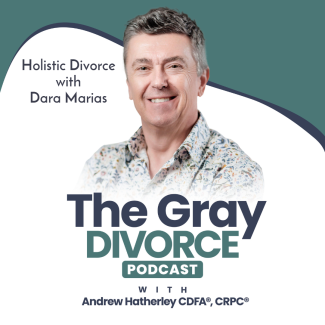 The Gray Divorce Podcast: Episode 18 The Practice of Holistic Divorce with Dara Marias
In episode 18 of the Gray Divorce Podcast, I speak with Dara Marias. Dara oversees the Holistic Divorce Practice at Kainen Law Group in Las Vegas. 
We discuss what the term holistic divorce education really means. Dara emphasizes that divorce is more than just money and the law. And it's not just the event. There's a whole aspect to it that affects people emotionally, in the way they communicate with others, their relationships with their children, and their friends and colleagues. 
Dara is careful to emphasize that holistic divorce education is not therapy. But it does teach people that it is necessary to become more mindful with their emotions and to understand what's going on in their lives and how to communicate better with all the people around them. 
We acknowledge that when people are going through divorce, they often aren't putting their best face forward. It's important to note that the divorce process itself can also exacerbate negative tendencies. To that end, we discuss how mediation and amicable divorce can encourage people to move through the divorce process while keeping their self-respect and dignity and lessening the negative effects on family and friends. Unlike the typical litigated divorce, mediation can be empowering for a couple in that they are working together to forge their new independent futures as opposed to leaving their lives in the hands of a trial judge. 
Dara discusses the robust educational offerings available through her legal practice. In particular, we discuss the courses she offers on emotional agility, effective communication, and customized coparenting: 
Emotional agility
How do emotions work and what are some strategies you can use to better understand and process your emotions. 
Effective communication
By developing mindfulness of our core needs, understanding helpful and unhelpful communication habits, and viewing "demands" as strategies for getting needs met, we can learn to communicate more effectively. 
Customized Co-parenting
Children can emerge healthy from divorce when parents promote continuity, protection, reassurance, and emotional expression. 
Dara and I also talk about the Amicable Divorce Network, an organization of solution-oriented professionals dedicated to helping people divorce in a low-conflict and cost-effective manner. Dara and I are founding members of the Nevada Chapter of the Amicable Divorce Network, whose members include attorneys, divorce financial analysts, financial planners, mediators, divorce coaches, and divorce lending professionals. 
Resources: 
Holistic Divorce Education: https://nvholisticdivorce.com/ 
Kainen Law Group: https://www.kainenlawgroup.com/ 
The Amicable Divorce Network: https://www.divorceamicably.com/