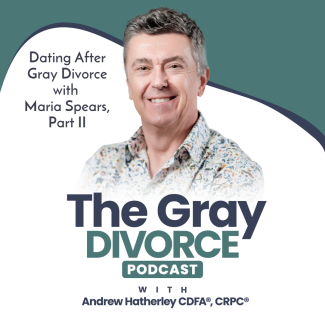 The Gray Divorce Podcast: Episode 17 Dating After Gray Divorce with Maria Spears, Part II
In episode 17 of The Gray Divorce Podcast, I welcome backdating and love coach Maria Spears. While our previous discussion about dating after gray divorce, Episode 12, dealt with a lot of the emotional and psychological work that we need to do within ourselves to prepare for entering the dating world, this new episode focuses more on the nuts and bolts of real-world dating once we've decided to take the plunge and enter the world of dating after divorce. 
A lot of our conversation focuses on the world of online dating. We discuss the various online sites out there, including the old standby, Match.com. We also discussed Tinder, EHarmony, Bumble, and others. Maria makes the important point that people dating after divorce should know what they're looking for and have an idea of why they're out there in the dating world. Because the different sites cater to the different needs of daters. 
EHarmony, for instance, is much more geared towards people looking for a serious relationship than Tinder which is a little bit more oriented towards casual relationships. 
We also discuss some of the technological advances in these sites which not only offer improvements in better communicating with a potential match but also make the sites safer. We spend quite a bit of time discussing various scams that have emerged online and how to be vigilant and protect ourselves. 
Maria and I discuss the importance of honestly representing ourselves in our profiles both in text and, very importantly, in video. 
We also note that online dating isn't the only place to meet people. In fact, most people still find romantic partners in the real world, through common interests, introductions, or just striking up a conversation when out and about. An example of this is the sport of pickleball which lends itself to socializing more so than tennis. 
Marie and I also discuss cocktail bars and how bars are less a likely place for people to meet once they enter their 50s and 60s. 
Finally, Maria and I share our personal experiences dating after divorce and perhaps provide some inspiration for other mid to late-life romantics reentering the dating world.